Book House Cleaning Online Today!
Book House Cleaning and Apartment Cleaning Services Online in Minutes!
Available in Manhattan, Brooklyn, Queens, the Bronx, and Nassau County Long Island
Book A Cleaning Schedule For Home Services
Getting House Cleaning In NYC Couldn't Be Simpler!
Looking to book a cleaning schedule for home services online in NYC? You're in the right place! Access the form below and check prices, available services, or submit a booking request (see our service descriptions if you're wondering about what items or services you can reserve for your home). Just about every need you can think of is covered in our form, with details about standard house cleaning, deep cleaning to maid services, and no additional hidden fees.
In fact, if there's anything we haven't covered, such as if you need a different kind of residential cleaning service, tell us as well! After your form is submitted, one of our Customer Care Reps will get in touch with you and go over your requests. You'll be able to select weekly cleaning or monthly cleaning as well as choose individual items from our cleaning checklist. Spend less time trying to complete daily cleaning tasks and let us handle the cleaning routine.
Book house cleaning in Brooklyn, Queens, the Bronx, Manhattan, or Nassau County Long Island. Don't wait any longer, get a tidy home today!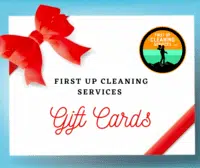 Give The Gift Of Cleaning
Insured and Bonded For Your Security
No need to worry, our cleaning company is insured and bonded for your security. We make sure that our clients in New York City can get the best cleaning, with the safety and peace of mind of knowing they have a certified, fully insured, bonded and accredited company working for them. We provide our own tools, cleaning products, and cleaning supplies to keep the experience hassle-free and give you exactly what you're looking for.
How Much Does House Cleaning Cost?
In NYC, house cleaning can usually cost anywhere from $150 for smaller spaces and apartments and up to $500 or more for larger homes. Some cleaning companies prefer to charge by the hour per worker, which can range from $45 to $90 an hour per person in New York City.
We opt to try to save our customers money and calculate our cleaning service pricing list based on the number of spaces that need to be cleaned, and the type of cleaning that is to be applied for the best results. In this way, we are able to decide what's most beneficial for the customer's budget and give them the most accurate cleaning service price.
First Up Cleaning's great NYC maid services and housekeeping services come with free, fair, no-obligation price quotes to ensure you get the most value for your money. Any home cleaning services, from deep to post construction cleaning, utilize our skilled cleaning processes. Our professional cleaners are committed to giving you excellent cleaning on a regular basis and will always provide the best customer service.
If you're a first time customer, you'll get 15% off your first home cleaning service in the boroughs we serve and Long Island! We also offer seniors a 20% discount on Monday, Tuesday, and Wednesday of every week (except holidays).
What You Get When You Schedule House Cleaning And Apartment Cleaning Services
First Up Cleaning Services is dedicated to hearing your concerns when you schedule house cleaning and apartment cleaning services. Every house cleaner is trained to mop, remove clutter and grime, clean appliances and more! If you need your apartment, co-op, or condo cleaned, we are happy to accommodate you (except we do not do laundry). and you can indicate the frequency you need it on our form. No cleaning need is too great or too small. Feel free to book weekly, bi weekly or monthly recurring cleaning service in the easiest way, by using our form.
You can rest assured that we'll perform an amazing job with anything you ask for in your apartment. We specialize in organizing and cleaning high-traffic areas. We'll try to comply with any special requirements or instructions you may have (such as entry or exit instructions).
Our cleaners are sure to perform a good housekeeping job with any regular or deep clean, that you'll wish you had called us sooner! You can also contact us for Rush or Same Day cleaning services. Our customer service reps are available for you 24/7.
What Are The Benefits Of Having A House Cleaning Schedule?
Having a house cleaning schedule has many benefits. Its difficult for a lot of people engage in a weekly cleaning tasks or even to perform spring cleaning when necessary. it may become overwhelming to keep a clean house and also handle the normal chores in your everyday life. We handle the housework to keep your home neat and tidy, so you can be more organized. This includes vacuuming rugs, cleaning your living room and dining room, and removing stains.
Our cleaning supplies will also allow us to disinfect surfaces such as your countertops, microwave, dishwasher, and fridge. Think about the you time and energy you can save by allowing someone else to handle these tasks. Regular servicing will allow your home to stay in order so constant cleaning will no longer be a concern. A house cleaning schedule can be customized to fit your lifestyle and needs, so that you can keep your home looking its best without feeling overworked.
Feel confident when you book cleaning services from our professional housekeepers because our company is experienced in delivering excellent cleaning to residential properties, offices and businesses and making sure that they're cleaned perfectly. There is never an issue with making sure that you house will be cleaned on time because you are free to call us any day of the week with any questions, and our staff is always available.
If an issue should ever arise involving your appointment, be sure that a team member will reach out to you to make you aware of the details. When you use our online booking system, we're sure you will be pleasantly surprised that you can select small details like cleaning of kitchen cabinets, window sills, and dirty dishes from our selection menu.
Now you can get back to the things you want to do and let us get your home clean. Our efficiency and knowledge of techniques and standards will save you both time… and money.
Are Debit And Credit Cards Accepted?
We accept all major cards. Debit and credit cards accepted as payment for your home cleaning service are handled securely. In addition you can also make payments via Venmo and Zelle. You also have the option of handling your own payment transaction once you receive the invoice sent to your designated e-mail address. The current state of fraud and identity theft makes us take matters of secure payment very seriously. Just use a credit/debit card to make your one time or recurring payment, and we'll secure your order for housekeeping services.
We utilize secure transaction portals and also process payments via PayPal. You also have the option to choose a flexible payment option with Klarna. This could minimize the initial cost of an unexpected cleaning expense with the ability to make simple monthly payments. This process is interest-free for the first four months. In just a few quick steps, you'll be on your way to a sparkling clean home.
Open Mon-Sat 8am-8pm |  Sun: 9am-6pm